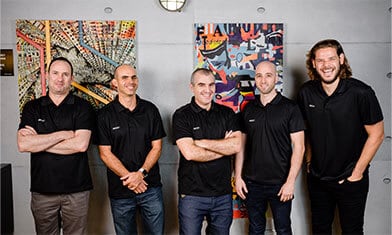 Always take the long view

Provide cutting edge professionalism

Always provide excellent service

Be honest, maintain integrity among colleagues and customers

Provide agile, invigorating and mind challenging work environment
In 2009, Ben Ben Aderet and Iftach Shapira founded GRSee Consulting to give companies a better way to achieve PCI Compliance.
We have since guided hundreds of clients through various cybersecurity and compliance challenges, without the need to juggle multiple vendors.
GRSee offers the convenience of a one-stop-shop security service solution, coupled with the personalized advice of a trusted advisor.
GRSee serves a wide range of industries including Fintech, health, insurance, investments, lottery and others through our US & Israel offices.
Even as we continue to grow, the relationships we've built with our clients remain at the heart of our business.
Every interaction we have with our clients is based on trust and transparency.
In today's day and age, with security breaches making headlines daily, information security is more essential than ever before.
The need for customized and creative solutions provided in an efficient and accurate manner are highly sought after, but rarely found.
We continuously invest in training and hiring top talent so we can offer the best service possible.
GRSee will show you how a proactive approach towards information security gives you a competitive advantage which ultimately will help you close more deals and grow your business.

Ben Ben Aderet
Co-Founder | CEO

Iftach Shapira
Co-Founder | CEO